Well, hello there faithful Sassy Peach book blog readers! Today's post was originally going to be a review of Erica Jong's
Fear of Flying
, which I have just wrapped up (along with a couple of others!). The review will have to wait until Friday, though, because something else of great importance has come up.
For those of you who are not familiar with what I do on a day-to-day basis, I proudly serve as the Education Manager for Young Playwrights Inc. Our mission is to develop playwrights aged 18 or under through professional presentations and mentorship; to facilitate the use of playwriting in the classroom, encouraging creative expression and improving literacy; and to support its writers through advocacy and networking in the theater community. You can find our website here:
www.youngplaywrights.org
.
Early Sunday morning our offices caught fire and were essentially destroyed. We were able to recover our backup drive, so we are able to continue our work, albeit from home and other locations when we directly serve our young writers. However, everything that existed in real-life form was destroyed, including both hard copies of paper on our desks and person items such as shoes and coats--
and most heart breaking of all for me, books.
This is where Sassy Peach Reads comes in.
Over 75 books were for sale on Half.com to bring in revenue for our company, several books and plays were my personal copies that I kept at the office, and I had seven books out from the New York Public Library that were on my desk for easy access as I eat books for breakfast. Three of them were brand new, including Joan Didion's
Blue Nights
. All in, on, and around my desk were destroyed, and those that were not are damaged by smoke and unable to be sold. There are days where I leave my Kindle at the office, but I am thankful beyond belief that I keep it on my person when I travel.
We will rebuild and we will be stronger than ever. No one was in the office at the time, so no one was injured. Everything can be put back together. Please, though, take a few minutes to read our letter below and if you can find it in your heart to donate to our rebuilding I would not be able to express my gratefulness enough. Something as small as $5 makes a difference to us. Please re-post this blog, forward to everyone you have ever been spammed by, or just send us your good vibes--we will take it all. We will continue doing the great work we have been doing, and in the words of our phenomenal Literary Manager, Elizabeth:
Thank you, thank you, thank you--for everything. Have a happy Thanksgiving, and don't forget to be grateful. I know I sure am; I am grateful for my life, my health, my job, and the people who make all of it worthwhile. And I am thankful for you, readers.
A NOTE FROM YOUNG PLAYWRIGHTS INC.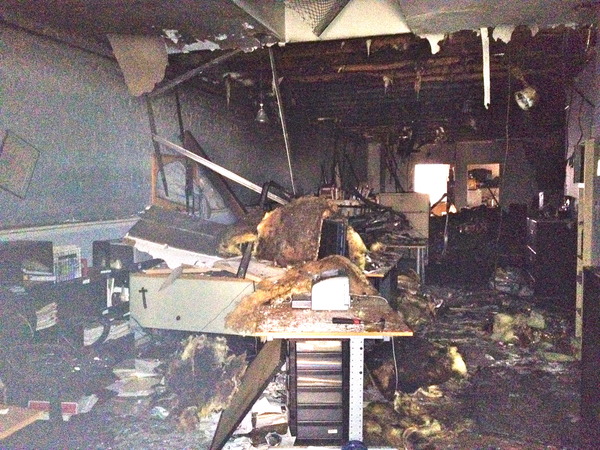 Early Sunday morning the Young Playwrights Inc. offices were destroyed in a fire. We've enclosed a few pictures of the aftermath. Although we are extremely relieved that no one was hurt, the fact remains that after months of working to creatively move the organization forward, we are now facing new challenges. We know that many of you will instantly ask "How can I help?" and we are grateful for your generosity - a couple of ways to assist are available at the end of this email.
It would be all too easy to pass along only this devastating information - we're certainly still recovering from the shock - but we think it's important to focus on the innovative ways that Young Playwrights Inc. has been working to fulfill its mission. So, to that end, here's a bit of what we've been up to:
We are now recognizing our National Competition winners through weekly interviews with Elizabeth, our Literary Manager. If you haven't been getting the emails, the articles are available on our

News Desk

.


Additionally, in January, we are opening up our Young Playwrights Conference Reading Series to a wider audience by using the larger space at Cherry Lane Theatre.



Nicole, our Education Program Manager, has been heading up a major project to retool our Curriculum Guide to improve usability and clarity, giving more teachers access to our curriculum even if they are not able to bring one of our workshops into their classrooms or travel to New York to train with us.



As the recovery process gets underway we hope to keep you informed with our progress.
In the meantime, everyone here is committed to serving our playwrights with no interruption and we hope you will help us fulfill that mandate. Every Tuesday, 14 young writers have been coming to our office to hone their craft in our Advanced Playwriting Workshop and, other than rescheduling this Tuesday's session, we will continue the program as promised and are in the process of seeking out friendly spaces to host us while we get back on our feet. This January we have the eight winners of our National Playwriting Competition coming to workshop their plays and we have no intention of changing their experience in any way. Our upcoming competitions will continue as normal and we are already working on new systems to make this process as efficient as possible under the circumstances.
Over the past 30 years our organization has weathered many storms, and there is no doubt in our minds that by working together we will bounce back stronger than ever.
The Young Playwrights Inc. Team:
Sheri Goldhirsch, Amanda Junco, Elizabeth Bojsza, and Nicole Lorenzetti
| | | | | |
| --- | --- | --- | --- | --- |
| | Our rehearsal & workshop space. | | The origin of the fire, our copy area. | |
Make A Donation



Because all of our equipment and supplies have been destroyed, what we need most is money. To make a donation you can mail a check to our Post Office Box (address listed below) or make a donation through Paypal.

Be A Volunteer

We know that we will need extra hands along the way. If you are interested in volunteering please email us your name and the skills you think would be most useful to us to

admin@youngplaywrights.org

(these do not have to be restricted to cleanup and rebuilding!)


Post Office Box 5134 | New York, NY 10185
Phone: 212.594.5440 (please leave a message we are checking our calls remotely)
www.youngplaywrights.org
View this letter online:
Young Playwrights Inc. Devastated By Fire
---